During the past few weeks, the kids and I have been digging into a Bible study that I had never even heard of before. Deeper Roots Publications is a really refreshing Bible study program for kids of all ages. It is 4 book program that has been developed by 3 wonderful Christian people and their staff–Howard and Bonnie Lisech and Jan Harris. These three work together to bring the Bible to life for your kids so that they truly understand what it means to study God's word.
I was sent Discovering Christlike Habits (book 3) to review. It is geared towards 7th through 9th grade, but I have been using it for my 11th grader as well (not to mention all the learning that I am doing as well!).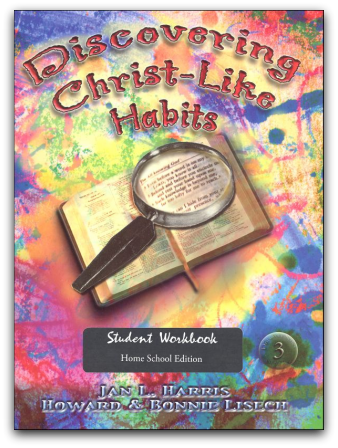 (From their website)It provides not only a deeper understanding of Christian habits, but also daily practice in such disciplines as prayer, worship, Bible study, etc. The lessons combine Bible studies with plenty of hands-on activities, writing stories, interviewing family members, planning and acting out Bible dramas, and taking a field trip, for example.
This product retails for $28.95 and includes both a student workbook and a teacher book.
Jennifer's Thoughts:
When the kids and I opened this Bible study, I was expecting to get the same results as I had from other Bible studies we have done. However, I was extremely impressed with the layout of each lesson and how each day builds upon the previous day.
Each lesson starts with learning about a country and the people that live there. You are given specific things to pray for in the way of missions and is really teaching my kids what it means to pray for others.
The lessons are really interactive. In fact, in the very first lesson we were able to watch a video about a missionary and the faith it took to trust God with his life when he was abducted by guerrillas. My kids were riveted to the computer as we watched the video and they found his story interesting–which only led to them wanting to learn more.
Since then, we have written newspaper stories, played charades, and really studied the Scriptures regarding Christlike Habits. I am SO thankful that I was chosen for this review. We have been looking for a Bible study for a long time that would help my kids apply what they are reading. If that is what you are looking for–then this is the Bible curriculum for you!!
Here are the other books that are available in this series:
DISCOVERING OUR AMAZING GOD (Book 1), 
DISCOVERING WHO I AM IN CHRIST (Book 2),
DISCOVERING CHRIST-LIKE CHARACTER (Book 4)
I am planning to continue this Bible study and do all the books in this series as well as the one for the senior high year as well!
If you are not sure that this curriculum is for you, I invite you to check out the sample that can be found on this page at the bottom.
Be sure to also check out all the other reviews from the other crew members who received some of the other products available from Deeper Roots!
I was provided a copy of Discovering Christlike Habits by TOS in exchange for my review. All reviews and opinions are my own. No other compensation was made.