Up for review this time is another game! Woohoo! You know how my family and I love games (in fact, we are very competitive on just about everything)!
In this review, we are going to be looking at Wits and Wagers Family from North Star Games. This game reminds me a lot of some of my favorite games I have played in the past. Lots of choices–some of them correct and some not, but you have to see if you can pull off faking everyone out with a "best guess".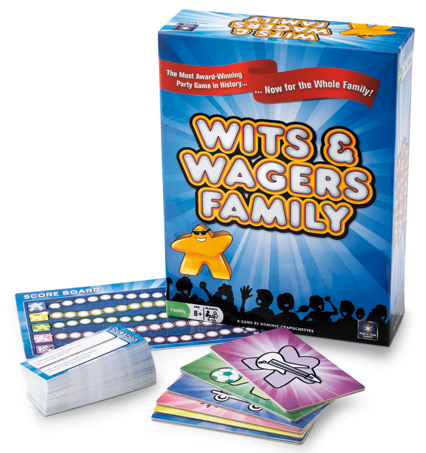 The game features 300 new family-friendly questions. And even better than that, Wits & Wagers Family includes Meeples– fun, cute, human shaped wooden pieces that the players use to select which answers they think are correct. Meeples have been a hallmark in European style strategy games for years, but this is the first time they have made an appearance in a party game.
Our family had a great time playing this game. It's fun, innovative, and does a great job teaching your kids how to use their imagination.
Available both online and from a variety of national retailers, the game comes with a deck of question cards, a score board, five answer boards, a set of dry erase markers, and five pairs of Meeples. You can even purchase it Amazon!
Other games available are Say Anything and the original Wits and Wagers.
Want to see what other reviewers are saying? Click here to find out!
I was sent this game to review for being on the TOS Homeschool Crew. All opinions are my own.