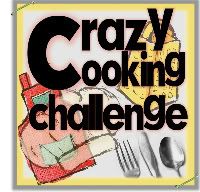 This month for the crazy cooking challenge, we had to find and create a mashed potato dish! For me, I just cannot think of mashed potatoes without thinking of bacon, cheese, sour cream, and of course. . green onions. So I started digging to see if I could find a recipe for BLT Smashed Potatoes. Never Enough Thyme When Lana's Cooking has THE best recipe ever!
This tastes just like a baked potato. . .only in mashed form. It was really delicious!
BLT Smashed Potatoes-Mom's Crazy Cooking Challenge
Ingredients
2 ½ pounds small red skinned new potatoes
3-4 green onions chopped
4 slices bacon
1/2 cup shredded Cheddar cheese
1 cup chicken broth or stock
1 ripe tomato, chopped
Salt and pepper
Sour cream (optional)
Instructions
Cut the potatoes into approximately one-inch pieces. Place the potatoes in a pot with lightly salted water. Bring to a boil and cook for 12 to 15 minutes or until tender.
Take the scallions and cut off the root ends and tough green tops, then cut crosswise into ¼ to ½ inch pieces.
Cut the bacon up into small bite size pieces. Cook the bacon 3 to 5 minutes until it begins to crisp and has rendered most of its fat. Drain on paper towels. Then return the bacon to the pan and add the scallions. Cook 3 to 5 minutes more until scallions are tender.
Drain the potatoes and return them to the hot pot. Start smashing the potatoes with about half the chicken stock. Add the bacon, scallions, cheese, and tomatoes to the potatoes and continue to smash. Add more chicken stock as you work to obtain a thick, chunky mashed potato consistency. You want the finished dish to be chunky, not smooth. Season with salt and pepper to taste. Serve with a dollop of sour cream if desired.
http://jennifersikora.com/2011/11/blt-smashed-potatoes-moms-crazy-cooking-challenge/
Be sure and visit the Crazy Cooking Challenge and see all the delicious and mouthwatering mashed potato recipes in the bloggy world!
Powered by Linky Tools
Click here to enter your link and view this Linky Tools list…
Pin It


8 Responses to BLT Smashed Potatoes-Mom's Crazy Cooking Challenge