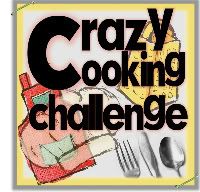 This month for the Crazy Cooking Challenge we had to find a chicken noodle soup recipe to make. I didn't want to make just any old chicken noodle soup. I wanted to make something different and delicious, so I found the perfect recipe over at Gimme Some Oven.
It turned out SO good. My daughter raved and raved about how delicious this turned out. The tortellini filled with cheese added just enough carbs to really make this soup spectacular.
You will want to make it. I PROMISE!
1 can of sliced carrots, drained
2 cans of stewed tomatoes, chopped
2 boxes of low-sodium chicken broth
8 ounces cheese tortellini (fresh or frozen)
2 cups rotisserie chicken, shredded
kosher salt and freshly-ground black pepper
2 Tbsp. chopped fresh flat-leaf parsley (for garnish)
Directions
In a large saucepan, combine all ingredients (except the chicken and tortellini) in a big pot and simmer for 10 to 12 minutes.
Add the tortellini and simmer until tender, 2 to 4 minutes.
Add the chicken and cook, stirring occasionally, until heated through, 1 to 2 minutes more; season salt, pepper and  then sprinkle with the parsley.  Serve warm with your favorite bread.


9 Responses to Chicken Tortellini Soup-Crazy Cooking Challenge