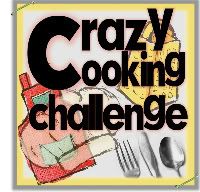 This month for the Crazy Cooking Challenge, we were challenged to find the ultimate chocolate cake recipe. Now — I am one for simplicity and yet I love making things homemade so I went looking for a cake that included both of those elements.
I just happened to need a dessert the other night for dinner and I was craving chocolate so I knew it would be a perfect time to make my recipe. I found exactly what I was looking for at Life as a Lofthouse. Chocolate. Crockpot. Lava — nuff said, right?
This cake was absolutely to do die for! It was so moist and delicious and for the first time, there was no fussing over it. While I was busy working, my cake was cooking. No forgotten timer, no over cooking the cake. It just bakes away in the crockpot!
You. will. want. to. fix. this. cake.
Chocolate Crockpot Cake- Crazy Cooking Challenge
Ingredients
FOR THE CAKE:

2 cups Brown Sugar
2 cups All-purpose Flour
6 Tablespoons Unsweetened Cocoa Powder
4 teaspoons Baking Powder
1 teaspoon Salt
1 cup Milk
4 Tablespoons Butter, melted
1 teaspoon Vanilla Extract

FOR THE FUDGE TOPPING:

1 1/2 cups Brown Sugar
1/2 cup Unsweetened Cocoa Powder
3 cups Boiling Water
Instructions
For the cake:

Mix together the sugar, flour, cocoa, baking powder and salt in a large bowl. Stir in milk, melted butter and vanilla until combined. Spread the batter over the bottom of a large crockpot.

For the fudge topping:

Mix together the brown sugar and cocoa. Sprinkle mixture over the cake batter.
Pour the boiling water over the top. DO NOT STIR! Cover and cook on High for 2 - 2 1/2 hours.
Cake will be very hot! Turn off heat, and remove lid. Let sit 20-30 minutes before serving
http://jennifersikora.com/2012/02/chocolate-crockpot-cake-crazy-cooking-challenge/


16 Responses to Chocolate Crockpot Cake- Crazy Cooking Challenge