Tonight, I made a few new dishes for our Chinese meal. Homemade sweet-n-sour sauce, coconut chicken, and this delicious, "tastes just like takeout" Crockpot Beef and Broccoli.
I am telling you, when I first saw this recipe on
BS Recipes
, I was like — NO WAY! Every single beef and broccoli recipe I have ever tried just did not even taste right.
This one is spot on
(as Chef Ramsey would say)
I cooked it just like she said to. The only change I made was using olive oil in place of sesame oil. It still turned out delicious.
I will tell you that when you go to the store to look for Beef Consumme, go directly to the Campbell's soup aisle. I walked aisle after aisle before Googling it on my phone and finding it. I will save you the trouble and just tell you where to get it!
My daughter would not keep her fork out of the crockpot. I kept telling her to wait for supper but she said she was starving.
Next time, I am going to add slivered carrots and red pepper strips to it I think.
Crockpot Beef and Broccoli
Author:
Orginally posted by BS Recipes
You will never want take out again after making this delicious Crockpot Beef and Broccoli
Ingredients
1 pound boneless beef chuck roast, sliced into thin strips
1 cup beef consumme
½ cup soy sauce
⅓ cup brown sugar
1 tablespoon olive oil
3 garlic cloves, minced
****Put the following ingredients in after the first cook time of 6-8 hours***
2 tablespoons cornstarch
2 tablespoons sauce from the crock pot after being cooked
Fresh broccoli florets (as many as desired)
Hot cooked rice
Instructions
Slice beef in thin slices (doing this from a half frozen roast and then place beef in a crock pot.
In a small bowl, combine consomme, soy sauce, brown sugar, oil, and garlic. Pour over beef. Cook on low for 6-8 hours.
At the end of your cook time, stir cornstarch and sauce in a cup until combined and then pour in the crockpot with the beef and sauce.
Mix it together until smooth.
Add broccoli to the crock pot. Stir to combine. (also add any other veggies at this time as well)
Cover and cook an additional 30 minutes on high.
Serve over hot cooked rice.
This post is participating in these hops: Tempt My Tummy Tuesdays
Tuesdays at the Table
Tasty Tuesday
Slightly Indulgent Tuesday
Hearth and Soul Hop
Tasty Tuesday Link Party
This Week's Cravings
Delicious Dishes
Totally Tasty Tuesday
Try a New Recipe Tuesday
Kids in the Kitchen


One of my favorite meals is steak. I could eat it morning, noon, and night. Seriously. I don't because that much red meat is not good for you. But if I could, I would definitely do it! What is better than just steak, is pairing with grilled mushrooms. Steak with mushrooms is THE ultimate dinner.
Tips for Grilling the Perfect Steak
Here are a few tips for grilling the perfect steak:
Remove the steaks from the refrigerator about 30 to 40 minutes before cooking. Cover loosely with plastic wrap and allow the steaks to come to room temperature.
Marinate them in either Terriyaki Sauce for a delicious flavor, or Worchestershire sauce for a more subtle flavor.
Season both sides of the steak with Lemon and pepper and garlic salt
Most people will tell you not to flip your steaks but once, but my hubby is an A-One griller and he flips his steaks several times. The secret though is to let the steaks get their char on before flipping.
Telling when a steak is done is not an exact science.  An instant-read meat thermometer is most accurate way; insert it into the center of the steak. Rare is 110 to 115 degrees; medium-rare, 120 degrees; medium, 125 to 130 degrees; medium-well, 130 to 135 degrees; and well, 140 degrees. (Err on the low side, since steaks will continue to cook when removed from the grill.) Allow the meat to rest for 3 to 4 minutes before serving, to allows the juices to emerge from the center.
Top the steak off with a pat of butter while it is resting.
The Ultimate Dinner Grilled Steak with Mushrooms
Prep time:
Cook time:
Total time:
You will never want a restaurant steak again!
Ingredients
4 ribeye steaks with great marbeling in them
Your choice of marinade
lemon pepper
garlic salt
4 tablespoons of butter
Instructions
Allow steaks to rest for 30 minutes.
Place steaks in marinade for 30 minutes.
Season with lemon and pepper and garlic salt.
Grill to your desired doneness.
Remove from grill and allow steak to rest about 5 minutes
Dab with one tablespoon of butter while steaks are resting.


Ever since I started cooking, I have wanted to make kabobs. They just look so professional when on the skewer and it also looks like something a foodie would fix. So when I got a box of Schwan's food in the mail to review, and I saw the kabobs, I knew what I would be making for my family one night for dinner.
Putting them together was extremely simple. I just thawed the box of kabob tips (#436). While those were thawing, I cut my veggies and got them prepped.
That is the great thing about kabobs — all the elements can be prepped in advance. Don't forget to put your skewers in water and let them soak so that they do not catch on fire while on the grill.
I marinated the meat in a cola marinade. It made the meat have a succulent and delicious flavor.
The next time you are in the mood for a new recipe, be sure and try this one on for size!
Author:
Courtesy of Schwan's
Prep time:
Cook time:
Total time:
A nice take on a meal that will not only leave you filling full and satisified, but will also leave you with more time to do other things in the evening.
Ingredients
6 ounces of cola
1 tablespoon of spicy mustard
2 teaspoons of soy sauce
1 teaspoon of hot sauce or Tobasco Sauce
2 tablespoons of honey
2 cloves of fresh garlic minced
1 package of Schwans #436 Beef Kabob Tips
2 zuchinni sliced ½" think
1 onion, quarted
1 pint of grape tomatoes
2 potatoes slice ½" thick
Instructions
Combine cola, mustard, soy, Tabasco, honey, and garlic to make a marinade.
Place meat and marinade in a glass dish and let it marinade for 30 minutes.
Skewer meat alternatively with veggies. You should wind up with 3-4 pieces of meat per skewer.
Grill according to preferred doneness.
About Schwan's
If you are like me and are trying to eat better and make better food choices, Schwan's has a program that might be exactly what you are looking for — Live Smart!
To find about which delicious foods are in the Live Smart Program, visit Schwan's online. You can also join the Rewards program and earn some points toward products, etc. Schwan's is your goto for grilling inspiration.
Sign up for email.
I was sent a box of Live Smart items from Schwan's to try in exchange for my review. All opinions listed are my own.


Since I have been creating my own homemade teriyaki sauce, I have been experimenting with new flavors in my old food. I decided to create a hawaiian/asian style flavored burger with pineapples and teriyaki sauce. I got the inspiration from one of my favorite sandwiches at Backyard Burger–Hawaiian Chicken Sandwich.
Hope you enjoy!
Pineapple Teriyaki Burgers
Prep time:
Cook time:
Total time:
Simple, yet classic. This burger and it's Hawaiian flavors will transport you on a vacation to remember:)
Ingredients
1½ pounds lean ground beef
2 tablespoons of teriyaki sauce (homemade or storebought), plus extra for pineapples
1 (8-ounce) can pineapple rings, drained, juice reserved
Salt and freshly ground black pepper
4 whole-grain burger buns
Lettuce, tomato, onion, for serving
Instructions
Prepare your grill for grilling.
Season your ground beef with salt, pepper, and the teriyaki sauce.
Grill burgers to desired doneness.
Brush pineapple rings with remaining teriyaki sauce and grill 4-5 minutes per side.
Top burgers with pineapple rings and toppings. Serve on buns.



I entered a contest for cooking with mustard from the brand Saucy Mama(it's SO good). My recipe is below and voting opens tomorrow!
Grilled Steak with Spicy Herbed Mustard Sauce
Ingredients
1 (1 lb.) ribeye steak
1 small shallot, minced
1 1/2 TBSP dry white wine
1/4 c. low-sodium chicken broth
3 TBSP heavy cream
1 1/2 TBSP Saucy Mama Chipotle Mustard
1 tbsp olive oil
Instructions
Season both sides of the steak with salt and pepper. While the steak is resting, get your gril heated. Cook, without moving, until well browned, about 2 minutes. Flip steak, using tongs, and cook for another 2 minutes. Continue cooking until well browned on the second side. For medium-rare, cook about 5 minutes or until the internal temperature reaches 125 degrees F. For medium, cook for about 6 minutes or until steak reaches 130 degrees F.
Remove steak from the grill and place on a platter or cutting board. Tent loosely with foil and allow to rest 12-15 minutes or until the temperature reaches 130 degrees F for medium-rare and 135 degrees F for medium.
Place 1 TBSP olive oil in the skillet. Put pan to low heat and add shallot. Cook, stirring frequently, until the shallot begins to brown, 2 to 3 minutes. Add wine and increase heat to medium-high. Simmer rapidly for about 30 seconds and use a wooden spoon to scrape up any browned bits on the bottom of the skillet.
Add broth and simmer until reduced to 2 TBSP, about 3 minutes. Add cream and any juices from the resting steak. Continue cooking 1 minute more, then stir in mustard. Season to taste with salt and pepper.
Slice steak about 1/4 inch thick, against the grain, on the bias. Arrange on two plates, spoon sauce over the top and serve immediately.
Serve with a salad and delicious roasted potatoes.
http://jennifersikora.com/2012/02/grilled-steak-with-spicy-herbed-mustard-sauce/


I get asked all the time where I get my food inspiration from. There are two words — Food Network. It stays on that channel almost all day long while Stephen is working and the kids are doing school. I have several favorite chefs on there, but one that is quickly becoming my favorite is Melissa D'Arabian. I rooted for her the entire time she was on the Next Food Network Star because she is a stay at home always looking to put a delicious meal on the table without breaking the bank (kinda reminds me of myself).
This Sirloin Steak with Poblano Pesto was the first recipe of hers that I had made. It was very inexpensive to make and it was SO good. I have used the pesto sauce on other sandwiches and also on pasta and it has a very bold and delicious flavor.
You can use this pesto on basically any steak you want. Just grill it to your preferred doneness and then slather the pesto sauce all over the top! YUM!
I did get to experiment with how easy it was to roast your own peppers in the oven. I have been wanting to try that for a while and it was super easy! (I will share more about that in another post).
Here is the recipe. Hope you guys enjoy it!
Sirlon Steak with Poblano Pesto Courtesy of Melissa D
Ingredients
For the Poblano Pesto

2 poblano peppers
1/2 cup grated Parmesan
1/4 cup fresh cilantro leaves, roughly chopped
2 cloves garlic, coarsely chopped
1 tablespoon chili powder
1/2 cup vegetable oil
Kosher salt

For the Sirloin Steak

1 (1 1/2-pound) sirloin steak
Kosher salt and freshly ground pepper
2 tablespoons vegetable oil
Poblano Pesto
Instructions
For the pesto:

Char the poblano peppers under the broiler until all of the sides are blackened. Place in a bowl covered tightly with plastic wrap, allowing the steam to help loosen the skin. With your fingers or a spoon, scrape and discard the blackened skin then remove the seeds and core. Coarsely chop the poblanos, and place into a mini food processor. Add the Parmesan, cilantro, garlic, chili powder and oil and process until well combined, but not totally smooth. Taste and season with salt.

For the Steak

Season the steak liberally with salt and pepper, and allow to sit at room temperature for 15 to 30 minutes. Meanwhile, heat a grill pan over medium-high heat. Brush the steak with vegetable oil and cook on grill pan, undisturbed for 3 minutes. Flip the steak over and cook until the steak is 150 degrees F for medium well, about 3 minutes more. Remove to a cutting board, and allow to rest a full 5 minutes before slicing. Cut the steak with a sharp knife against the grain into thin slices. Fan slices out onto a serving platter and top with the Poblano Pesto.
http://jennifersikora.com/2012/01/sirlon-steak-with-poblano-pesto-from-food-network/


One day I was watching Paula Deen on Food Network and she made these delicious looking Puff Pastry Burgers. I thought to myself, hey I can do that!
This recipe is SO much fun because you can add anything inside the puff pastry to create the best burger ever! I have added in the past, cole slaw, avocado, bacon, tomato, french fries, etc. The possibilities are endless!
So how do you make them?
Puff Pastry Burgers
Ingredients
hamburger meat
lemon and pepper seasoning
garlic salt
bacon, cooked for burgers
cheese slices
tomatoe slices
1 package of puff pastry sheets
1 egg white
1 tablespoon of water
Directions
Pat out your hamburgers to your desired size. Season with lemon and pepper and garlic salt. Cook your burgers your preferred way–grilled, baked, or fried.
While the burgers are cooking, lay out your puff pastry sheets so that they can thaw.
Cook your bacon and slice your tomatoes.
After the burgers get through cooking, top them with the cheese slices and set them aside.
Preheat oven to 400 degrees.
Open your pastry sheets and slice them in to 4 squares. Take a square and massage it so it will spread a little.
Take your burger and place it in the middle of the puff pastry. Top it with the cooked bacon and tomatoes.
Fold the ends together to completely cover the burger and then press the seams together. You should have a closed pocket of meat inside that puff pastry. Continue until all the burgers have been covered. Lay them seam side down on a baking sheet.
Take the egg white and beat with the water. Brush the tops of the  puff pastry burgers with the egg wash and then place them in the oven to bake for 10-12 minutes.
Remove from the oven and serve them with a side of ketchup and mustard!
Pin It


I have found the most scrumptious way to make a hearty meal for my family. It involves 4 simple ingredients, your crockpot, and a hungry tummy! This is a wonderful weeknight dinner you can serve after a long day at work when you don't feel like cooking. There is NO cooking involved! The crockpot does it for you
Here is the recipe. Hope you enjoy!
Meatball Sub Sandwiches
Ingredients
1 package of frozen meatballs
1 jar of marinara sauce
Mozarella cheese slices
hoagie rolls
Directions
Place meatballs in the crockpot. Cover with marinara sauce. Heat on high for a couple of hours or on low for 4 hours.
Once meatballs are done, place in hoagie rolls and top with mozzarella cheese. Place under the broiler for a few minutes to get that toasted cheese look


I found this delicious recipe in one of my million magazines that I read each month. It was on an ad for Campbell's soup. It looked so tantalizing, that I knew I was going to have to make it. I did sub out the bread for what I had on hand and added tomato to mine where they used banana peppers.
This meal comes together SUPER fast and is just beyond scrumptious!
Roast Beef with Au Jus
Ingredients
1 can of Campbell's French Onion Soup
1/2 pound of thinly shaved roast beef
2 tablespoons of Worcestershire sauce
4-5 slices of provolone cheese
1 package of your favorite rolls (in this case I used knot rolls)
Directions:
In a saucepan, combine the french onion soup, Worcestershire sauce, and roast beef. Heat until warm.
While the meat and soup are heating, split rolls and toast under a broiler.
Once the buns are toasted, top bottoms of buns with roast beef, a slice of cheese, and a couple of slices of tomato. Barely place the tops in the au jus sauce just long enough to grab some of that liquid. Set the tops aside.
Melt the cheese under the broiler. Once the cheese is melted, place the soaked tops on the sandwich and enjoy!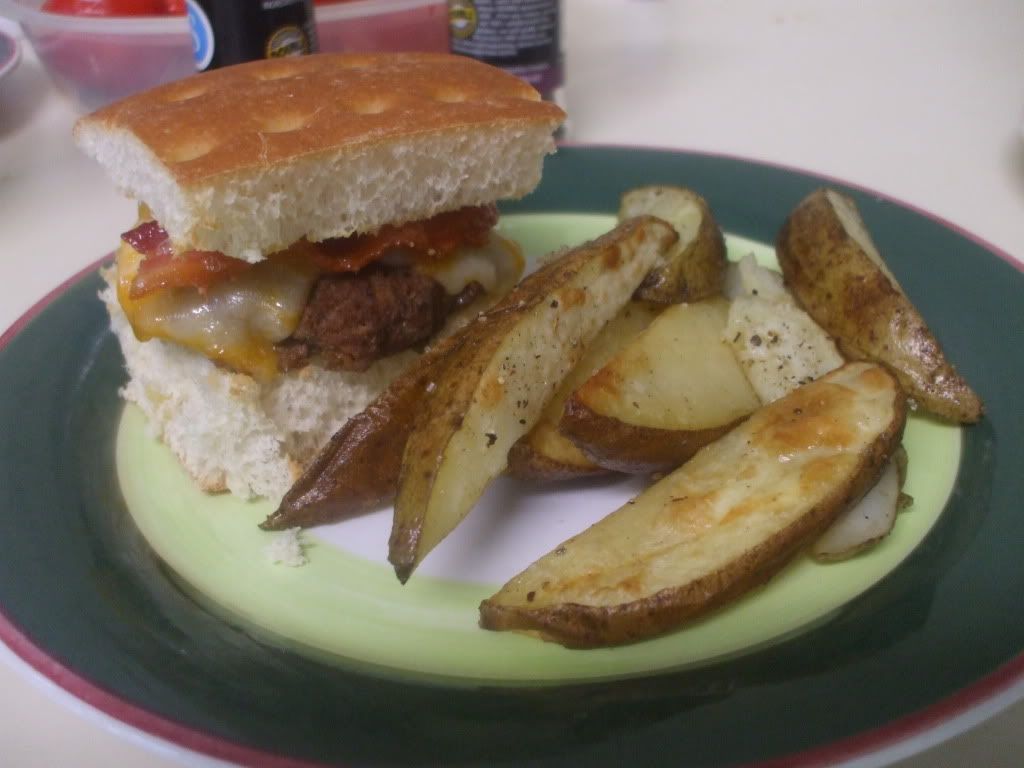 I made this delicious meal awhile back! All you need to create these lovely burgers is my foccacia recipe and my seasoned tater wedgies recipe!
SO good!
Soon, I will be posting a recipe on how to create the BEST tasting and juiciest burger you have ever put in your mouth. Still trying to work out the kinks and get it just right!