Where I live we have a Save a lot. It has to be one of my favorite stores of all times. Not only can I feed my family for a small amount of money, I can get a week's worth of groceries for around $60. You cannot beat that!
Save-a-Lot recently ran a contest where moms were issued the challenge of creating a very inexpensive meal. The winning recipe was Dollar Stretcher Enchiladas. Save-a-Lot wanted my opinion on the taste, so they sent me $10 to spend to recreate the recipe and let me know.
$10 can go a long way at Save-a-Lot my friends
All I can say is YUM, YUM, YUM! Save-a-Lot did a fantabulous job choosing Amy as the winner! She really outdid herself with this recipe. I of course, had to top mine with tomatoes
(you can never have too many tomatoes in my opinion, especially if they are garden fresh)
Cheesy Chicken Enchiladas-a Save a Lot Recipe
Author:
Jennifer (recreated from Save-a-Lot)
Prep time:
Cook time:
Total time:
These enchiladas will feed a huge family and only cost you less than $10 to make!
Ingredients
1½ Cups Chopped, Cooked Chicken
4 Senora Verde® Flour Tortillas
1 Can Senora Verde® Refried Beans
1 Package Coburn Farms® shredded cheese
8 oz. Coburn Farms® Sour Cream
16 oz. Senora Verda salsa
1 tsp. Marcum® Chili Powder
Instructions
Grease or spray a 13″x9″ baking pan. Lay 4 tortilla shells out and spread a thin layer of refried beans in the center. Sprinkle with chopped chicken and shredded cheese. Roll up and place in the baking pan, seam side down. Mix salsa, sour cream and chili powder in a small bowl. Pour over the enchiladas to cover. Cover with foil and bake at 350ºF for about 30 minutes. Garnish with additional shredded cheese when finished. Serve and enjoy!
I was sent a $10 stipend in order to write my review of this recipe. All opinions stated are my own.


Okay–
Here in my house we LOVE, LOVE, LOVE Mexican food. We have it at least once a week here
Here are some of my favorite dishes that I have shared here on the blog.
Homemade Mexican White Cheese Dip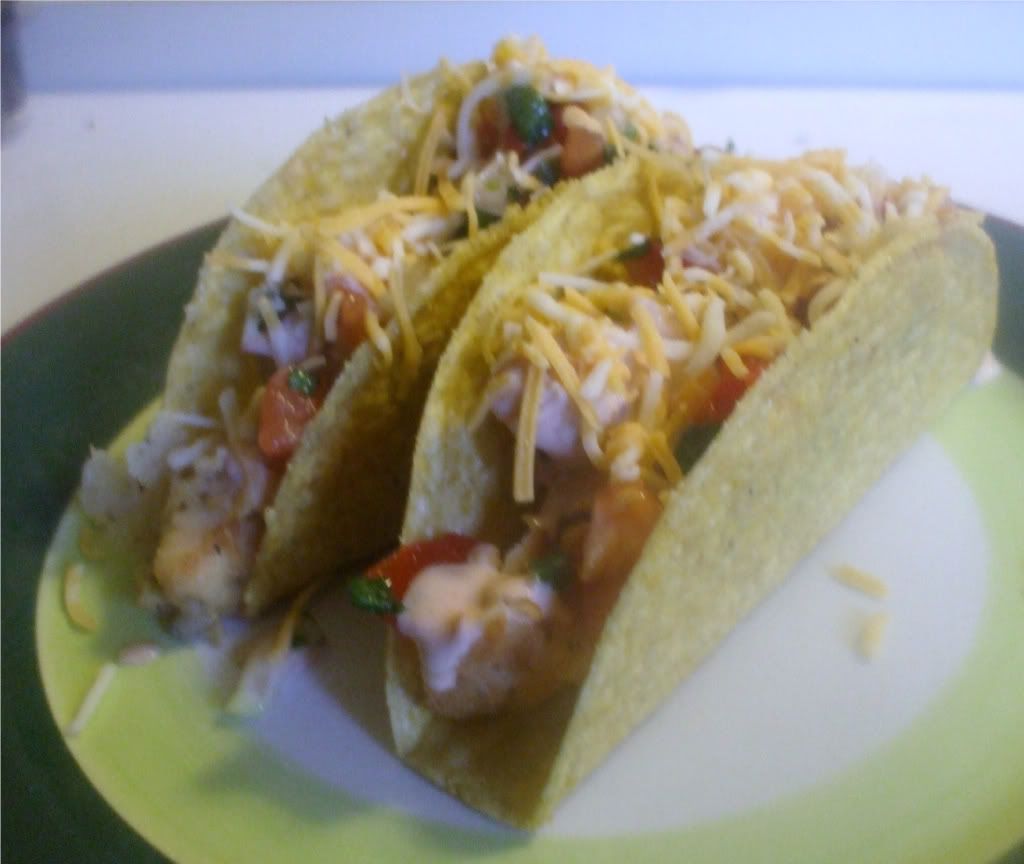 Breakfast Tostadas
What are you fixing for Cinco de Mayo?


There are many times in life when you come across a recipe that becomes like a staple in your home. This recipe is one of those ones that will make you fall in love–all over again!
You know my love for Mexican food so anytime I can find a recipe that involves taco seasoning, ground beef, and doritios–I am so there.
This recipe came to me from one of the ladies at our church. She makes this incredible salad with just a few ingredients, and it is SO filling. I can see this being a main course for someone who is wanting to eat a little lighter. It's a salad and meal all in one. Did I mention how inexpensive it is to make?
Beefy Taco and Dorito Salad
This is an awesome meal that you can have if you are wanting to put a spin on your traditional taco salad.
Ingredients
1 lb ground beef
1 (1 ½ ounce) package taco seasoning mix
1 bag of iceberg salad lettuce
1 red onion, diced
8 ounces cheddar cheese
1 (16 ounce) bottle Sweet Honey Catalina dressing
1 (14 ½ ounce) bag Doritos , crushed
Instructions
Brown meat with taco seasoning mix, drain grease.
While meat is browning, chop onion and mix onion, lettuce and shredded cheese.
Let meat cool a little and then mix with salad lettuce. Cool in the refrigerator. Right before serving, add the dressing, and crushed doritos to lettuce.
http://jennifersikora.com/2012/02/beefy-taco-and-dorito-salad/


If you are looking for a change of pace from your normal chicken enchiladas, then this is the meal for you! It is SO delicious and creamy. There was not a drop left in the pan I made. That is how good this is.
Most enchiladas are rolled up and red sauce is used, but in this dish, you lay out the corn tortillas like a lasagna and use salsa verde instead.
Try it.
Fall in love with it!
Ingredients
2 tablespoons extra-virgin olive oil
2 pounds ground chicken
1 tablespoon ground cumin
1 tablespoon ground coriander
Salt and pepper
2 jalapeños, chopped
1 red onion, chopped
3 cloves garlic, grated or finely chopped
12 large or 14 small tomatillos, peeled and coarsely chopped
1/3 cup cilantro (a generous handful)
2 avocados
Grated peel and juice of 2 limes
1 tablespoon honey
One 11-ounce package flour tortillas
1/2 pound monterey jack cheese, shredded
Directions:
Preheat the broiler or the oven to 400°. In a large skillet, heat 1 tablespoon EVOO, 1 turn of the pan, over medium-high heat. Add the chicken, crumbling the meat, and the cumin and coriander; season with salt and pepper. Cook until lightly browned, about 3 minutes.
In a large saucepan, heat the remaining 1 tablespoon EVOO, 1 turn of the pan. Add the onions, chiles and garlic, season with salt and pepper and cook until softened, about 5 minutes.
Using a food processor, process the tomatillos and cilantro until almost smooth, then stir into the onion mixture and process for 5 minutes. Rinse out the food processor bowl. Add the avocados, lime peel and lime juice; puree, then season with salt. Stir the avocado mixture into the tomatillo sauce. Stir in the honey.
In a clean skillet, cook the tortillas until charred. In a 9-by-13-inch baking dish, layer some sauce, tortillas, meat, cheese, tortillas and so on, ending with a layer of cheese. Broil until browned and bubbly, about 5 minutes.


This past week, my daughter has been after me to make her some homemade taquitos. However, when I tried, my version was a lot bigger than a taquito, so I named them chimichangas!
These little guys turned out SO good. I had all the ingredients on hand so it did not take long at all to whip this up. It is a small portion size so this makes for a great one person meal when you are in a hurry. You could even pare this with one of those little microwave cups of Minute Rice and have a well balanced meal in just minutes!
So here is how I made this dish:
I used 2 frozen chicken tenderloins and grilled them on my grill pan with a little salt, pepper, and season salt. (Lawry's all the way baby!)
I also made up a homemade salsa mix using Rotel, cilantro, white vinegar, salt, and cumin. I mixed a little of that juice with the chicken and shredded it up to look like this:
After your chicken gets done cooking, set it aside and warm your tortillas. I used 6″ corn tortillas. After you warm your tortillas, place a small amount of chicken on each and a slice of cheese. I used pepper jack cheese.
After doing this, roll them up burrito style. This should not be hard because your tortillas should be nice and flexible. If they feel like they will crumble or break, take everything off and warm them again in the microwave for about 20 seconds.
After rolling them up, then put some oil in a frying pan and fry all sides until the tortilla is crispy like a chip! Then take them and dip them in your homemade salsa! YUM!
You will be SO glad you made these
. They are delicious and other than frying them in oil, they are very healthy for you!
Here is the printable of this recipe!
Chicken Chimichangas for One
Ingredients:
2 chicken tenderloins
season salt (Lawry's)
salt
pepper
1 (10 ounce) can of Rotel tomatoes
1 teaspoon cumin
2 teaspoons of cilantro
3 tablespoons of white vinegar
1 teaspoon salt
4 (6-inch) corn tortillas
2 slices of pepper jack cheese
oil for frying
Directions
Season chicken tenderloins with salt, pepper, and season salt. Fry them until done on a grill pan. Dice up and set aside.
In a small bowl, combine Rotel, cumin, cilantro, white vinegar, and salt. Taste. Add more spices if necessary to achieve your favorite salsa flavor.
Take some of the juice mixture from the salsa mixture and mix with your chicken chunks or shreds.
Heat tortillas in the microwave for 20 seconds or until heated through and flexible.
On each tortilla, place a small amount of the chicken mixture and 1/2 of a slice of pepper jack cheese.
Roll up burrito style.
Heat oil in a skillet and add burritos to the hot oil. Fry them on all sides until crispy like a tortilla chip.
Remove from oil and drain on a paper towel. Serve with salsa and your favorite rice!


I got in the kitchen last night and started messing around with some ingredients to see what I could come up with. I created a Mexican Chicken sandwich that was OUT of this world delicious!
This was really easy to create!
I grilled a piece of chicken breast seasoned with Lawry's seasoned salt and then shredded it for my sandwich.
I made some homemade pico de gallo and topped my sandwich with that, a piece of hot cheese, bacon, and some homemade tortila strips.
It was a very satisfying burger!
Mexican Chicken Burger
Ingredients:
1 piece of cooked chicken, seasoned and shredded
1 piece of hot cheese
1 piece of bacon cooked
2 tablespoons of pico de gallo or homemade chunky salsa
4 or 5 homemade tortilla strips
Directions
Shred your chicken and place on the bun. Top with cheese and bacon. Spoon pico or salsa onto the top of your bun and top with tortilla strips. Enjoy!
Now it's your turn! Share your favorite recipe on your blog and then come back here and link it to Passion for Cooking Wednesdays!
Powered by Linky Tools
Click here to enter your link and view this Linky Tools list…


I had the pleasure last week of playing with my new kitchen gadget–my tortilla maker! If you do not have one of these, let me tell you, they make the whole homemade tortilla process SO MUCH EASIER (and they are delicious and don't taste like cardboard)!
I got this from CSN stores a few weeks ago and it was very inexpensive (I think in the less than $20 range). I tried my hand at making them before the press and they did not turn out all that good. However, with the press, they get flat enough and stay round.
This was my first time messing with masa(which is what you will need to make really good corn tortillas). It was trial and error at first, but after a while I got the hang of making them.
Here is the recipe from the back of the masa bag. Oh, and guess what?  Masa is gluten-free so these can be made by those who have a gluten intolerance!
Homemade Corn Tortillas
Ingredients
1 3/4 cups masa
1 1/8 cups of hot water
Directions
In a medium bowl, mix together masa and hot water until thoroughly combined. Turn dough onto a clean surface and knead until pliable and smooth. If dough is too sticky, add more masa harina; if it begins to dry out, sprinkle with water. Cover dough tightly with plastic wrap and allow to stand for 30 minutes.
Preheat a cast iron skillet or griddle to medium-high.
Divide dough into 15 equal-size balls. Using a tortilla press, press each ball of dough flat between two sheets of wax paper. Don't try to pull the paper off of both sides. Just remove one side and place the other side face up and tortilla on the griddle. In just a few seconds you can pull the other side of the wax paper off.
Immediately place tortilla in preheated pan and allow to cook for approximately 30 seconds, or until browned and slightly puffy. Turn tortilla over to brown on second side for approximately 30 seconds more, then transfer to a plate. Repeat process with each ball of dough. Keep tortillas covered with a towel to stay warm and moist until ready to serve.
This post is linked to Anti Procrastination Tuesday, Hearth and Soul Blog Hop, Tuesday Night Supper Club, Tasty Tuesday, Tempt My Tummy Tuesday, Tuesdays at the Table, Slightly Indulgent Tuesdays, Tuesday Tasty Tidbits,
Tasty Tuesday


Okay, as promised, here is one of my new outfits I purchased last week. I love it!
I finally purchased a pair of blue jeans that were form fitting. The shoes are slip in boots that I absolutely love and the shirt is just a nice casual sweater that I found. I feel very girly when I wear this and my husband really likes the way it looks on me. This whole outfit only cost $7.50!
I am trying *really* hard to be okay with the way I look while I change my lifestyle around (my eating habits and exercise habits) cause frankly they stink. I see more and more the junk food I keep stuffing down my face and how awful it makes me feel.
In saying that, here is my favorite cheese dip in the whole world. If you go out to a Mexican restaurant and you order the cheese dip, you will fall in love. Now you can make it at home!
All you need to make this cheese are three ingredients:
1 pound block of Land o Lakes American Cheese
1 can of diced green chiles
3-6 tablespoons of milk
Directions
Grate the cheese and place in a saucepan and melt. Add green chiles and milk (start with 3 tablespoons of milk). Stir until melted. If it is still to thick, keep adding milk until you get the desired consistency.
You will have the best Mexican Cheese dip EVER!
So how do you like my outfit? Did I do good? What suggestions do you have about the color blending with my red hair?


Doesn't this taco look fabulous? My whole family raved about how delicious they were.
I got my inspiration off of Food Network's show, What Would Brian Boitano Do? He had fixed Carne Asadas and had used both a soft shell and a crunchy shell. The lightbulb went off and I knew exactly what I was going to do.
To fix these tacos, you need a few things first:
These along with your chicken are the main ingredients! The other ingredients you need to make these scrumptious tacos are:
small round corn tortillas
small round flour tortillas
shredded cheese
cilantro
tomatoes
sour cream
taco sauce (if you want it on there)
avocado
oil for frying
Preparation:
The night before, prep your chicken according to the package directions on the back of the fajita seasoning and place in the fridge. It is important to use the Wal-Mart brand. It has the best flavor so far (and I have tried several kinds).
When you are ready to prepare your tacos, prepare your chicken by sauteing it until it is done and no longer pink. Set aside.
Fry as many corn tortillas as your family will need. You will use one for each taco. Fry them until they are slightly crisp but not burnt. Cover them with aluminum foil and allow them to set.
Warm as many flour tortillas as your family will want. One tortilla will be used for each taco. Wrap in aluminum foil and set aside.
Grate your cheese if you need to.
Chop your tomatoes
Chop up a little cilantro
Slice an avocado
The last step before assembly is to heat the nacho cheese sauce in a saucepan. Do not add anything to it. Just dump it in the pan and heat–trust me. It's good!
Assembly instructions:
Take a flour tortilla and smear it with some of the nacho cheese sauce. Place one crispy corn tortilla on top of that. Top those tortillas with chicken, tomato, cheese, avocado, and whatever other ingredients you want to throw on there. Right before folding it, sprinkle cilantro on top!
You have now created a double decker taco!

What happens when you fix a huge Boston Butt? Well, for starters, you not only get one meal. . . .
But you get two!
Spicy Pork Tacos
Pork Tacos
Ingredients
Leftover Shredded Pork
1 can of green chiles
1 package of taco seasoning mix
taco shells or tortillas
Salsa
Shredded cheese for garnish
sour cream for garnish
Directions
Heat the pork in a skillet. When it has reheated, add in the diced green chiles and taco seasoning mix. Put meat mixture on to your shells or tortillas and prepare as you would for tacos.
Cook one, serve twice!